4-Color Offset Printing
Product Options
Features
Photo Quality Printing

Premium Thick Paper

Many Options

Downloadable Templates
Description
Recommendations
Marketing Tips
Description
Presentation Folders are a tool designed to package and organize several other pieces of printing. In addition to the standard folder design, Presentation Folders have 1 or 2 pockets on the inside to hold your materials. They also offer convenient corner slots on the interior pockets to make it easy to include a business card.
Standard Sizes
Custom Size
Standard Sizes
Our standard sizes, listed below, are the most popular in the industry:
5.25" x 10.5"
6" x 9"
9" x 12"
9" x 14.5" - Legal Size
Each size (above) indicates the finished size of the Folders.
4/4 (Full Color Both Sides)
4/1 (Full Color Front / B&W Back)
4/0 (Full Color Front Side Only)
4/4
Note: Full color (also known as 4-color or CMYK) consists of professionally printing combinations of 4 ink colors (Cyan, Magenta, Yellow and blacK) to produce most colors. The correct ink mix is automatically calculated with our Design Online software as you create the piece. When you design and upload your own graphic/photo files be sure they are created as CMYK color format rather than RGB color format.
4/4 is printed in full color on both sides of the sheet. This option can reproduce the range of colors you see in a typical photograph out of the standard 4 printing colors: cyan, magenta, yellow, and black. Typical examples of this are magazine covers and high-end catalogs.
AQ 2 Sides
AQ is short for Aqueous Coating. This is a semi-gloss, environmentally friendly, water-based coating applied over the entire front and back of the printed piece. It provides additional gloss and protection, and it can be written on with a ballpoint pen.
Explanation of Turnaround Time
Rush
3-4 Days
7 Days
Explanation of Turnaround Time
See a quick chart showing turnaround times
Turnaround times begin when the proof is approved. All times are based on standard business days Monday through Friday excluding federal holidays. For orders shipping to the blue zone, please use the Eastern time zone (New York). For orders shipping to the red zone, please use the Pacific time zone (California). Please see the below map:
Please note that turnaround time does not include shipping or mailing time. You may select from available production turnaround times and your preferred shipping time as you place your order.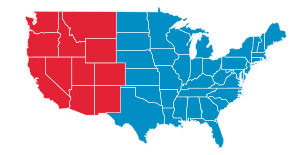 Our products are the same great quality for every turnaround time we offer.
Pockets
Shrinkwrap and Rubber Bands
Pockets
Presentation Folders come with either 1 or 2 interior pockets. Business Card slits are optional on one or both pockets.
1 Pocket right side with Business Cards Slits
1 Pocket right side without Business Card Slits
2 Pockets without Business Card slits
2 Pockets with Business Card slits both sides
2 Pockets with Business Card slits left side
2 Pockets with Business Card slits right side
Quantity
When to choose Offset
Custom Orders
Quantity
The quantity available is dependent on the order specifications you choose. To see available quantities, complete all order specifications in the pricing calculator and click on the "Quantity" dropdown menu.
Due to our printing process, we print in specific quantity increments.
If you need a quantity not listed, choose the next larger quantity and then let us know how many units you would like shipped and we will recycle the excess for you.
For example, if you would like 700 units, you can order 1000 units and let us know you only want 700 shipped. We will responsibly dispose of the extras.
We typically print more than the quantity ordered. Because printing is a manufacturing process, the total finished quantity may vary. We usually ship a few more than you order, but sometimes quantities can vary +/- 5%. Standard industry procedure is to consider this range shipment in full.
When to choose Offset
4-Color Offset printing (also known as full color or CMYK) is ideal for lower prices on large quantity orders or any time you would like coating on your products.
Almost always, people choose this option when ordering large quantities.
Get Templates
File Preparation
File Orientation
Bleed and Safe Area
Proofs and File Check
Please Select Template Below:
PDF stands for Portable Document Format. This template can be imported into: InDesign, Quark Express, Illustrator, Corel Draw, and many other content creation programs.
JPEG stands for Joint Photographic Experts Group and is a basic raster file format. This template is recommended for Photoshop.
EPS stands for Encapsulated PostScript. This template is recommended for advanced Illustrator users only.
Custom Design
Design Online
How to Use Custom Design Video
Custom Design
We create fully custom designs that help represent your company, brand or product in a professional way. Custom Design includes consulting to come up with a concept and design revisions, so you're truly part of the process. You can also add either a basic or corporate custom designed logo to your design.
There are 3 design packages to meet your needs:
1. Full Custom Design:
With this option you get complete, professional custom design for the product of your choosing. This includes consulting to discuss the concept, images, text, and revisions.
2. Full Custom Design plus a Basic Logo
With this option you get the complete design just like Custom Design Option 1 plus a basic logo. Basic logo design consists of a single font with a simple icon. See the examples under the "Logo Samples" tab.
3. Full Custom Design plus a Corporate Logo
With this option you get the complete design just like Custom Design Option 1 plus a corporate logo. Your corporate logo design has no limit to font styles so long as they are in our library. You also get a fully designed graphic to accompany your text. See the examples under the "Logo Samples" tab.
To see Custom Design pricing, number of images and revisions for this product, select "Custom Design" on the dropdown menu in the calculator and click the link underneath the menu.
Keep in mind that this price is estimated and includes limits on the amount of images and revisions that can be made before incurring additional charges. We will notify you prior to performing any services that cost more money.
Design Online
You can create a personalized design in just a few minutes. In our huge library of design templates you can search by specific category or select "generic" for personal use. Making changes to the text, font size and uploading a picture or logo on your chosen template is as easy as using a basic computer program. After you're done making changes, you are able to instantly view an online proof and order it for print.
There are professional design templates for almost any personal and business need.